LA Times, March 9, 2005 [ IV NCLB resource page ]
New Criteria Cut Ranks of Targeted School Systems
But L.A. Unified and 183 other districts in state would stay on watch list under U.S. compromise.

By Duke Helfand, Times Staff Writer

The Bush administration said Tuesday it would ease demands on California to identify troubled school districts, allowing the state to reduce the numbers of districts that could face takeovers and other sanctions.
Even with the new flexibility, 184 school systems would immediately be classified as needing improvement. That would be reduced, however, from the more than 300 that previously were going to be placed on a state watch list.
The targeted school districts — including Los Angeles Unified — would face increased scrutiny from Sacramento within two years if they failed to improve under the No Child Left Behind Act.
At the extreme, the state could abolish the districts or appoint trustees to replace school board members and superintendents.
The federal law requires states to place districts on a watch list if the number of students doing well on standardized math and English tests fails to increase enough two years in a row.
The compromise announced Tuesday would relax the federal standard for identifying struggling districts, and end months of difficult negotiations between Sacramento and Washington.
"We believe this is a fair solution," said Assistant Education Secretary Ray Simon. "This is not a failure label. It doesn't say you're a bad district. It just says you need to improve."
Still, state education officials said they were dissatisfied with the proposed agreement, which would keep some of the best school systems in the state on the watch list, including Palo Alto Unified and the Cupertino Union School District in the Silicon Valley.
State officials said they were unable to win further concessions from their federal counterparts.
The state Board of Education is expected to approval the deal today.
"You have to question the policy of dedicating time and resources to the Cupertinos of the state. I would much rather see us narrow our focus on the challenging, truly needy school districts," said Jack O'Connell, the state superintendent of public instruction. "This is another example of the federal department's inflexibility and one-size-fits-all approach to states."
State officials said that Cupertino — serving some of the state's most affluent communities — remained on the watch list because it did not test enough special education students in elementary and middle schools. Yet the district remains one of the top academic performers in California.
Cupertino officials were taking their new label in stride.
"It does seem a little peculiar," said Jeremy Nishihara, a district spokesman. "We're concerned with the fact that we're on the list. But we'd be more concerned if we weren't achieving academically."
The dispute over the identification of districts surfaced last fall, when federal education officials visited California to monitor whether the state was complying with the reform law.
They found that California had identified only 14 school districts as failing to meet the demands of the law.
The officials then required that California toughen its criteria, a change that would have landed 310 more districts on the watch list.
State leaders, saying they didn't have the resources to handle large numbers of failing districts, sought a compromise.
The state proposed a change that would make it easier for districts to meet federal expectations by reducing the categories of students who had to score at the proficient level on the English and math tests. The state also sought more time for districts to improve after they are identified on the watch list.
The compromise cut 141 districts off the target list, including some of the state's biggest school systems. Among those dropped were Oakland Unified, Rialto Unified and Fontana Unified.
Rialto Unified Supt. Edna D. Herring welcomed the news that her district of more than 30,000 students had been spared.
"I am very appreciative, but that doesn't mean we're going to do less," Herring said. "I'm going to keep the pressure on."
The superintendent of Fontana Unified said he too would continue pushing his schools to improve even though his system of more than 41,000 students would face no further scrutiny.
"We're going to continue to march forward as if we were on that watch list so we don't get complacent," said Supt. Charles Milligan. "Next year, the bar is significantly higher than this year."
Other districts were less fortunate.
Los Angeles Unified is among the 184 school systems that could face sanctions if they do not improve. Those districts also will be barred by the federal law from providing federally funded supplemental tutoring services to students who attend low-performing schools. L.A. Unified is spending about $25 million in federal funds this year to offer after-school tutoring to more than 16,000 students. But students will have to go elsewhere next year for tutoring.
"If we are failing to make change, they yank our chain," said L.A. Unified Supt. Roy Romer. "But this is a district that is changing more than most. It doesn't fit us right now. We are making great gains."
State officials said L.A. Unified remained on the list because schools didn't test enough high school students and special education students didn't score high enough to meet the federal goals.
School district officials noted an irony in the release of the new list of troubled districts.
L.A. Unified will be recognized today by the state Board of Education for its schools that have posted significant gains on state tests. At the same meeting, the district will be named as a school system in need of improvement under No Child Left Behind.
"It's not constructive," school board member David Tokofsky said. "It's not thoughtful."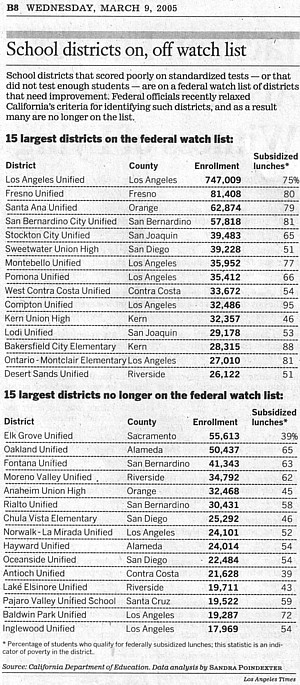 (BEGIN TEXT OF INFOBOX)
School districts on, off watch list
School districts that scored poorly on standardized tests — or that did not test enough students — are on a federal watch list of districts that need improvement. Federal officials recently relaxed California's criteria for identifying such districts, and as a result many are no longer on the list.
15 largest districts on the federal watch list:
* Percentage of students who qualify for federally subsidized lunches; this statistic is an indicator of poverty in the district.
District | County | Enrollment | Subsidized lunches*
Los Angeles Unified Los Angeles 747,009 75%
Fresno Unified Fresno 81,408 80
Santa Ana Unified Orange 62,874 79
San Bernardino City Unified San Bernardino 57,818 81
Stockton City Unified San Joaquin 39,483 65
Sweetwater Union High San Diego 39,228 51
Montebello Unified Los Angeles 35,952 77
Pomona Unified Los Angeles 35,412 66
West Contra Costa Unified Contra Costa 33,672 54
Compton Unified Los Angeles 32,486 95
Kern Union High Kern 32,357 46
Lodi Unified San Joaquin 29,178 53
Bakersfield City Elementary Kern 28,315 88
Ontario-Montclair Elementary Los Angeles 27,010 81
Desert Sands Unified Riverside 26,122 51
15 largest districts no longer on the federal watch list:
District | County | Enrollment | Subsidized lunches*
Elk Grove Unified Sacramento 55,613 39%
Oakland Unified Alameda 50,437 65
Fontana Unified San Bernardino 41,343 63
Moreno Valley Unified Riverside 34,792 62
Anaheim Union High Orange 32,468 45
Rialto Unified San Bernardino 30,431 58
Chula Vista Elementary San Diego 25,292 46
Norwalk-La Mirada Unified Los Angeles 24,101 52
Hayward Unified Alameda 24,014 54
Oceanside Unified San Diego 22,484 54
Antioch Unified Contra Costa 21,628 39
Lake Elsinore Unified Riverside 19,711 43
Pajaro Valley Unified School Santa Cruz 19,522 59
Baldwin Park Unified Los Angeles 19,287 72
Inglewood Unified Los Angeles 17,969 54
Source: California Department of Education. | Data analysis by Sandra Poindexter