Santa Barbara News-Press, 3/9/05
Federal educators' deal raises failing schools from 14 to 184
State to avoid financial penalties; list shorter than expected
By Erica WERNER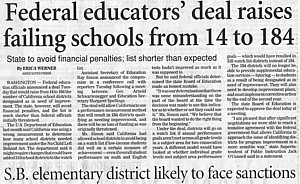 WASHINGTON - Federal education officials announced a deal Tuesday that would raise from 14 to 184 the number of California school districts designated as in need of improvement The state, however, will avoid financial penalties, and the list is much shorter than federal officials initially threatened.
The U.S. Department of Education last month said California was using a wrong measurement to determine how many school districts needed improvement under the No Child Left Behind Act. The department said it might require changes that could have added 310 school districts to the watch list.
Assistant Secretary of Education Ray Simon announced the compromise in a conference call with reporters Tuesday following a meeting between Gov. Arnold Schwarzenegger and Education Secretary Margaret Spellings.
The deal will allow California to use a performance measurement method that will result in 184 districts qualifying as needing improvement and there will be no loss of funding as was originally threatened.
Ms. Simon mid California had allowed school districts to avoid being on a watch list if low-income students did well on a certain measure of achievement--even if overall student performance on math and English tests hadn't improved as much as it was supposed to.
But he said federal officials determined the state Board of Education made an honest mistake.
"It was our determination that there was some misunderstanding on the part of the board at the time the decision was made to use this indicator as to whether or not they could use it," Ms. Simon said. "We believe that the board wanted to do the right thing from the beginning."
Under the deal, districts will go on a watch list if annual performance goals aren't met across all grade levels in a subject area for two consecutive years. A different model would have looked at whether individual grade levels met subject area performance goals--which would have resulted in: 310 watch list districts instead of 184.
The 184 districts will no longer be able to provide supplemental education services--tutoring--to students as a result of being designated as in need of improvement. They will also need to develop improvement plans, and must implement corrective action by the end of the second year.
The state Board of Education is expected to approve the deal today at a meeting
"I am pleased that after significant negotiations we were able to reach a tentative agreement with the federal government that allows California to approach the issue of identifying districts for program improvement in a more sensible way," state Superintendent of Public Instruction Jack O'Connell said in a statement.
[see also additional article: "S.B. Elementary District Likely to Face Sanctions." March 9, 2005]