Santa Barbara News-Press, 5/10/05
Transfer students deluge La Colina
Influx at high-performing middle school caused by option under No Child law
By ROB KUZNIA, NEWS-PRESS STAFF WRITER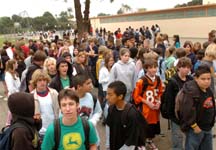 The federal No Child Left Behind Act is siphoning students from three public middle schools into La Colina Junior High School, the highest-performing and most affluent of the four in the Santa Barbara district.
A flood of transferring students is expected to fill the school, which is adding at least two portable classrooms to its campus this summer to house the overflow.
Under the three-year-old No Child Left Behind law, schools that are sanctioned for their low test scores must inform parents they may transfer their kids to a school that hasn't been marked for Program Improvement.
With parents wanting the best for their children, the scenario at La Colina shows how the law may lead to unbalanced school enrollment and even overcrowding.
Two of the district's four middle schools -- La Cumbre and Santa Barbara junior high schools -- have been sanctioned. They soon might be joined by Goleta Valley Junior High; the school missed its target last year and will face sanctions if it misses again this year.
If that happens, La Colina will be the only unmarked junior high school, meaning it could not turn kids away.
"At that point, the law says capacity cannot be an issue," Assistant Superintendent Jan Zettel said. "We would have to add (classrooms to La Colina). I don't know how in the world we would do that."
Unlike the other three schools, La Colina cannot face sanctions because it does not receive federal Title I funds for low-income students.
In a district with stagnant enrollment, La Colina is expected to grow from 1,030 to 1,130 by fall. Last week, the school stopped accepting student transfers for the first time in seven years.
Only about one-third of this year's 156 transfers into the school were related to the No Child law, signed by President Bush in 2002. District officials initially hoped to cap the transfer number at 100. But they relented when some parents from high-achieving Washington Elementary put up a fight, invoking what they perceived to be their rights under the federal law.
In a conference call to Mr. Zettel, the Washington parents argued that the No Child measure allows them to transfer to any school of their choice.
Mr. Zettel disagrees with the parents' interpretation, saying the complex law holds that parents must be allowed to transfer to a school that hasn't been sanctioned, not necessarily any school. Still, he assented.
"We want people to have what their choice is," Mr. Zettel said. "I think that's what the board wants, too."
This school year, Santa Barbara Junior High became the second local middle school to be sanctioned. It is losing 76 students to La Colina -- more than any other school. La Cumbre, which was sanctioned the year before, is losing 61 students to La Colina; Goleta Valley, 19.
With its unusually flexible boundary restrictions, the K-12 Santa Barbara school system has long been a free market.
As a result, La Colina's enrollment has grown steadily since 1998, when it enrolled 740 students.
So, for parents with older children, the transfer process has become routine. In fact, most La Colina hopefuls were unconcerned or unaware of the No Child issue.
For Montecito resident Lorna Berger, it was the third time she'd transferred an incoming seventh-grader to La Colina from the Santa Barbara Junior High area. Ms. Berger said La Colina is even better than the private school she attended in London.
"It doesn't matter how many kids are there, (the staff members) know my kids' names," she said. "Candy's math teacher called and left a message to say, 'I just want you to know Candy's doing absolutely beautifully.' That's unbelievable. I didn't even call the teacher and instigate the phone call."
La Colina's enrollment has exceeded 1,130 in the past. In the early 1980s it served as many as 1,500. But that was before the school shared a campus with another school, Open Alternative, which has 215 students.
La Colina's swelling enrollment already has pushed some classes into the auditorium. But the increased enrollment hasn't hindered the school's success.
La Colina boasts the highest test scores of any middle school in Santa Barbara County. The school this year posted a sterling 814 on its API, or Academic Performance Index, a state-based measurement of schools' testing, with scores ranging from 200 to 1,000.
Stacked against schools across the state with similar demographics, it ranks somewhat less impressively -- in the top 40 percent. But the school also has earned a reputation for a stellar performing arts curriculum. And in the annual Santa Barbara County Science Fair, La Colina students have taken the top prize the past two years, besting even their high school competitors.
While it's nice to be on top, some at the school say it also would be good for other schools to hold onto talented students.
Math teacher Bob Ayer, a 22-year employee of La Colina, said in some ways it's a shame transferring parents -- who often are dedicated volunteers-- do not channel their talents into their neighborhood schools.
"It's great for us, but think of what that could have done for those schools, like La Cumbre," said Mr. Ayer, whose own children attended Santa Barbara Junior High. "It boggles the mind."
Parent Celia Howen was among the 50 people who nearly didn't get their children into La Colina. But upon learning her son would get in, her relief was tempered with guilt.
"You try to be a responsible parent, but then you have to be a responsible citizen as well," said Ms. Howen, who lives in the Santa Barbara Junior High area. "I struggle with that."
But there is no evidence the school has been the focus of so-called white flight. In four years, its proportion of white students has actually dipped slightly, from 65 percent to 63 percent.
At La Cumbre, however, the proportion of white students during that period shrank from 19 percent to 11 percent. In two years, the beleaguered school's total student population dwindled by 215 students, to 430.
But the bleeding appears to have stopped. The school's enrollment is projected to increase slightly, to 470.
That's music to the ears of new Principal Jo Ann Caines, who's embarked on a grass-roots campaign to sell the school's new "reorganization plan."
"I've been on the road since Feb. 1," she said, referring to the many parent meetings she's attended at the five elementary schools that are supposed to feed into La Cumbre: Adams, Harding, Monroe, Washington and McKinley.
She is also giving countless tours of her school, like a college recruiter -- almost.
"Colleges recruit those who meet the profile of the kids they want," she said. "We're doing outreach to all of our kids."
Meanwhile, Washington parent Carol Hawkes said she's open to trying La Cumbre in the future with her two youngest.
"I'm rooting for (La Cumbre)," she said. "If they start going on the upswing, I will be looking at them. ... But whatever La Colina is doing, it's working."